Legend of the Lakes

It is said that the Finger Lakes were made by the impression of the hand of the Great Spirit on central New York State. However there are six major Finger Lakes; west to east they are Canandaigua, Keuka, Seneca, Cayuga, Owasco and Skaneateles.
As told in Iroquois legend, the Great God Manitou wanted to reward the Iroquois Confederacy for their courage in battle and their devotion to the Great Spirit. He decided to bring part of their happy hunting ground down from the heavens.
According to the legend, there are six Finger Lakes because the hand of Manitou slipped when he was pushing the portion of Indian Paradise down from the heavens, causing six indentations that later became the lakes.
Wine & Beer Trails

Keuka Lake Wine Trail – www.keukawinetrail.com
Spend a day, a weekend, or a week traveling along the shores of beautiful Keuka Lake, the most picturesque of New York's pristine Finger Lakes. Visit the eight wineries of the Keuka Lake Wine Trail, enjoying the unique tasteful experience each has to offer. The Wineries include: Barrington Cellars, Dr. Frank's, Heron Hill, Hunt Country, Keuka Overlook, Keuka Spring, McGregor, and Chateau Renaissance.
Finger Lakes Beer Trail
www.fingerlakesbeertrail.com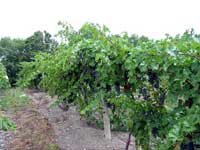 Seneca Lake Wine Trail – www.senecalakewine.com
We invite you to visit the largest, most diverse community of wine producers in the Eastern United States. Over thirty wineries along the shores of Seneca Lake offer individual and unique expressions from one of America's finest wine districts.
Car Service/Tours

Grapevine Country Tours – www.grapevinecountrytours.com
Pals Car Service – www.palscarservice.com
Keuka Taxi – www.Keukataxi.com
Shopping

Prime Outlets – www.primeoutlets.com
When it comes to shopping name brand values at tremendous savings, Prime Outlets centers are the destinations of choice for Americans and international tourists alike.
The Quilt Room – www.quiltroom.com
Oak Hill Bulk Foods – www.oakhillbulkfoods.com
The Windmill Craft Market – www.thewindmill.com
The Windmill Farm and Craft Market was originally formed as an outlet for local producers and craftsmen. Beginning with roughly 100 vendors, now in its 16th year it plays host to more than 250 vendors and craftsmen every Saturday, boasting everything from farm fresh produce to on-site Chiropractic services, you're sure to find something for everyone. Many people plan to spend the entire day at The Windmill and enjoy a picnic on the beautifully landscaped grounds. Flower gardens and our fish pond with water lilies add a touch of beauty. The Windmill is New York States first and still the finest rural farm and craft market.
Wizard of Clay – www.wizardofclay.com
Mackenzie-Childs – www.mackenzie-childs.com
Places of Interest

Corning Museum of Glass – www.cmog.org
The Corning Museum of Glass is open from 9:00 a.m. to 5:00 p.m. seven days a week. In July and August (through Labor Day weekend), it is open from 9:00 a.m. to 8:00 p.m. The Museum is closed Thanksgiving Day (fourth Thursday in November), December 25, and January 1. Limited programming opportunities and exhibits are available on December 24 from 9:00 a.m. until 4:00 p.m.
Finger Lake Golf Courses – www.lakesidecountryclubinpy.com
Glenn Curtiss Aviation Museum – www.GlennHCurtissMuseum.org
Early Aviation and Local History of Hammondsport, N.Y. "Must See" Attraction In The Finger Lakes.
Finger Lakes Boating Museum – www.flbm.org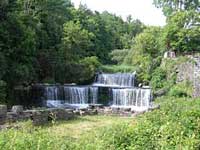 National Women's Hall of Fame – www.greatwomen.org
Indian Pines Park
Located on Keuka Lake and close to Trimmer House Bed and Breakfast, and a perfect location for picnics and relaxing. One of two local beaches with free access and swimming. Enjoy ice cream at Seneca Farms Ice Cream stand nearby.
Keuka College – www.keuka.edu
Touring campus, the incoming students learned about campus housing, the campus computer network, counseling and health services, intercollegiate and intramural athletics, and other programs available at Keuka. For current schedule of events, check the website.
Keuka Outlet Nature Trail
Hiking or biking Trail – https://www.keukaoutlettrail.org/
www.footprintpress.com/FingerLakes/map.htm

Keuka Lake – www.fingerlakes.com
It is unique among the Finger Lakes in two ways: it is Y-shaped with a scenic bluff over seven hundred feet above lake level between the two branches of the Y, and it is the only Finger Lake that drains into another Finger Lake, Seneca Lake at Dresden.
New York Wine and Culinary Center
www.nywcc.com
Montezuma National Wildlife Refuge – www.fws.gov/R5MNWR
Lies at the north end of Cayuga Lake, in the heart of the Finger Lakes Region of New York State. The Refuge serves as a major resting area for waterfowl and other waterbirds on their journeys to and from nesting areas in northeastern and east-central Canada.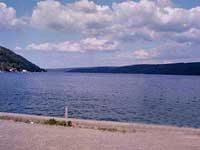 Keuka Lake State Park
https://nysparks.com/parks/67/details.aspx
Oliver House Museum – www.yatespast.com
The Oliver House, built in 1852, was once the residence of the well known Oliver family of physicians in Penn Yan. The Yates County Historical Society, although formed in 1860, did not have a home for its collections, exhibits, or archives. Cooperative agreements were drawn up between the Historical Society and the village. Today, the Oliver House Museum offers its visitors personal, guided tours through Victorian period rooms and changing exhibits interpreting the past of Yates County.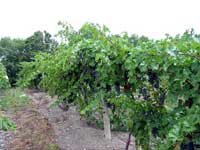 Sonnenberg Gardens – www.sonnenberg.org
Explore the mansion, visit the Wine Center, stroll the grounds and walk through the many beautiful gardens. Sonnenberg Gardens is a unique and wonderful place. Take your time and explore the many sights and sounds of Sonnenberg. We also have a tram service available for individuals who want to see the grounds but wish not to walk the entire estate.
Watkins Glen State Park
www.parks.ny.gov/parks/142/details.aspx
Watkins Glen Race Track – www.theglen.com
The circuit moved to its current permanent location in 1956. The Glen hosted a wide variety of racing competition during this time, including Formula One, Can-Am, Trans-Am and Indy cars. Victory Circle at Watkins Glen saw many of the top names in international motorsports, including Jackie Stewart, Mario Andretti, Bobby Unser and Mark Donahue.

Penn Yan – www.villageofpennyan.com
Trimmer House B&B is located in the historic Village of Penn Yan.
Penn Yan Flying Club – www.pennyanflyingclub.com
The Penn Yan Flying Club exists to provide inexpensive flying for its membership and to further the cause of General Aviation in the Club's extended community by providing both aircraft and training for current and future pilots.
Hot Air Balloon Flight – www.libertyballoon.com
Experience the magic of a balloon ride while floating over beautiful finger lakes. Call today to book your Hot Air Balloon Ride.